Email is one of the best marketing tools available in the internet age, but it can be difficult to consistently build effective campaigns. Luckily, there are hundreds of free email newsletter templates around to help.
In this article, we will take a look at 10+ websites where you can find free email newsletter templates. But first, let's explore why you should use these templates in the first place.
Why use email newsletter templates
There are a variety of reasons to use email newsletter templates:
Save time. We could all use more time to spend on the important aspects of our businesses. Reduce the time spent on the aesthetics of your newsletter without sacrificing quality.
Find ideas. Constantly finding new, innovative ideas for your marketing campaigns is a challenge. If you want to change things up but you aren't sure how, templates can show you the possibilities.
Access quality designs. Let's face it: we aren't all graphic designers. The best way to ensure success is to choose templates created by professional designers.
Increase conversions. A professional email newsletter template will convert better than whatever you'd build on your own.
Where to find free email newsletter templates
Here are 10+ great places to go for quality email newsletter templates:
Microsoft Office offers a huge variety of email newsletter templates designed for Microsoft Word and other MS Office tools. These include both free and paid templates. You will have to scroll down the page a bit to reach the free templates, though.
The collection includes free email newsletter templates for a variety of industries. These include nonprofits, fashion, and tech. You can use them by downloading them and adding them to MS Word.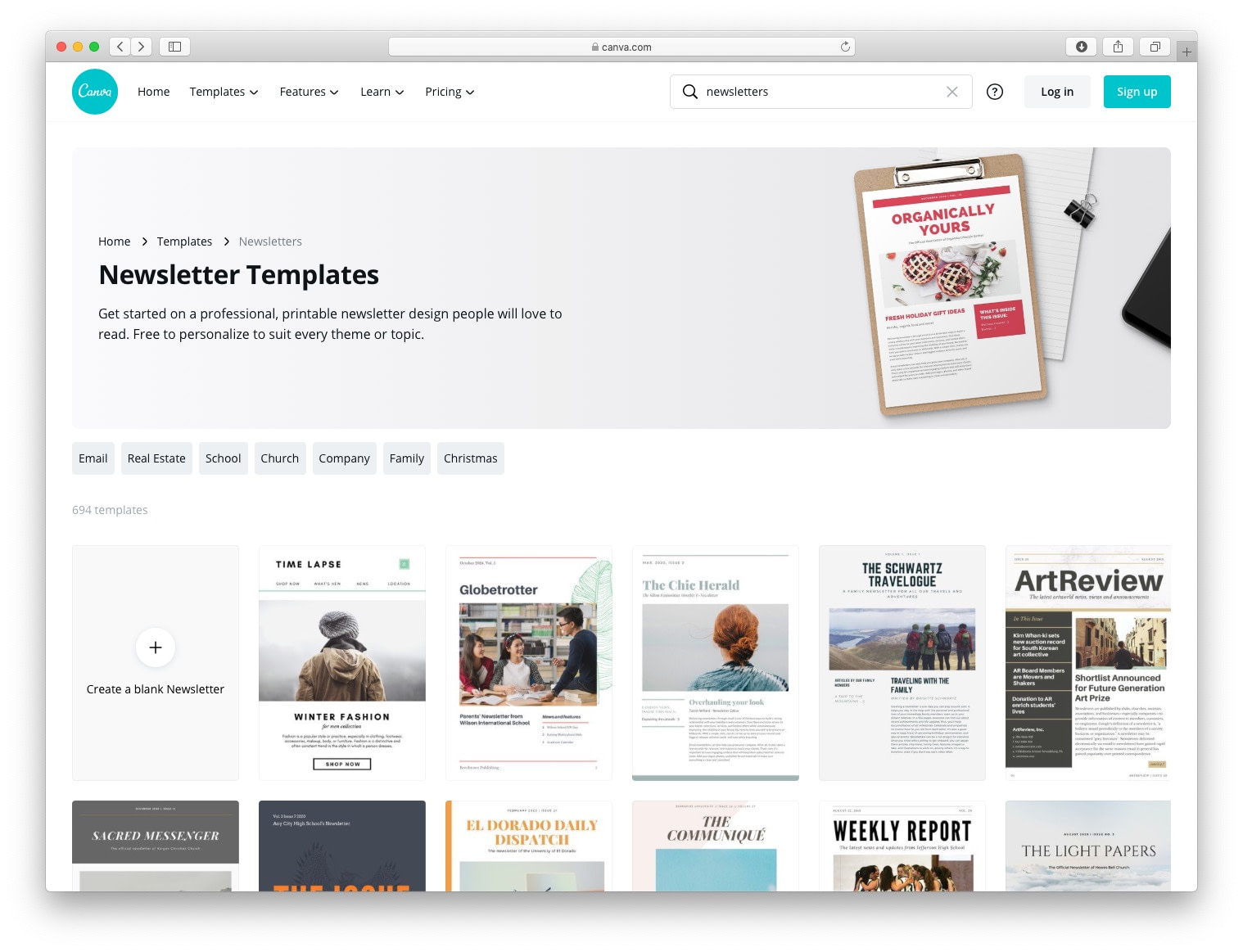 Canva is an online graphic design tool that offers free templates for a variety of things, including dozens of email newsletter templates. These include specialized templates for industries like real estate, fashion, and finance.
You must be a Canva member in order to use these email templates. You can register for an account using your email address or log in with Google or Facebook. Once you are logged in, simply click on a template and it will open in a new window for editing.
Keep in mind that email templates by Canva can only be exported as PDF. This is not the most useful format for newsletters, but can still be converted to an actual email message through your email newsletter service.
Adobe Spark is a browser-based design tool (though you can also use it as an app on your phone). Spark features a variety of templates for different purposes, including numerous email newsletter templates. Some of the industries they provide templates for include photography, architecture, and fitness. They also offer newsletter templates for specific types of promotions.
To access these templates, you must sign up for Adobe Spark. This is 100% free and can be done through social login. Once you are logged in, return to the templates page and click on the template of your choice to edit it.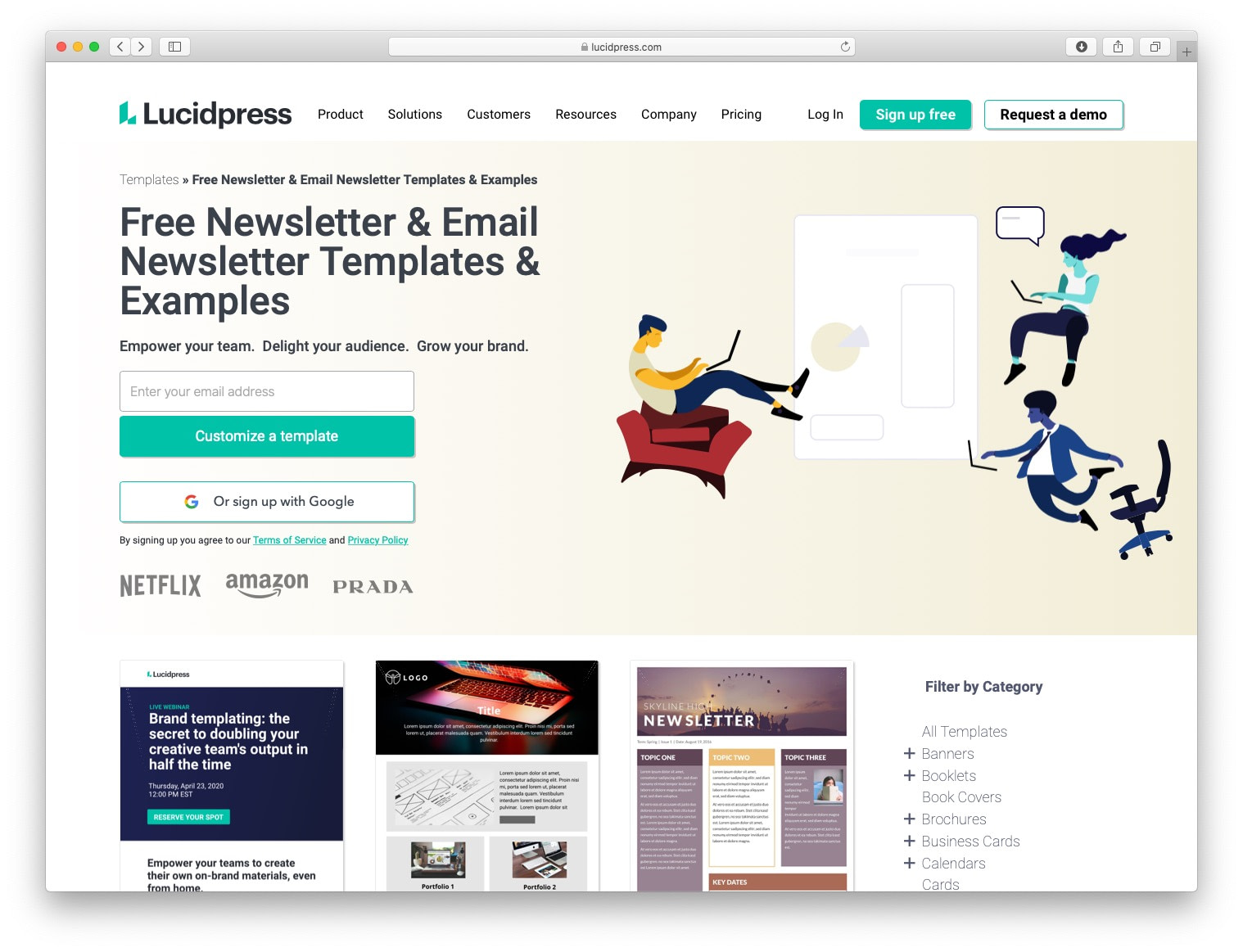 LucidPress is another browser-based graphic design tool with templates for a variety of purposes. Their free plan only gives you access to 10+ templates, but they are some of the more attractive options you'll find.
Like the last two sites, you will need to sign up for LucidPress in order to access their templates. You can do this using your email address or Google sign-in. This will take you directly to the templates area. Open the "For Tablet, Mobile…" sub-menu to see the option for email templates.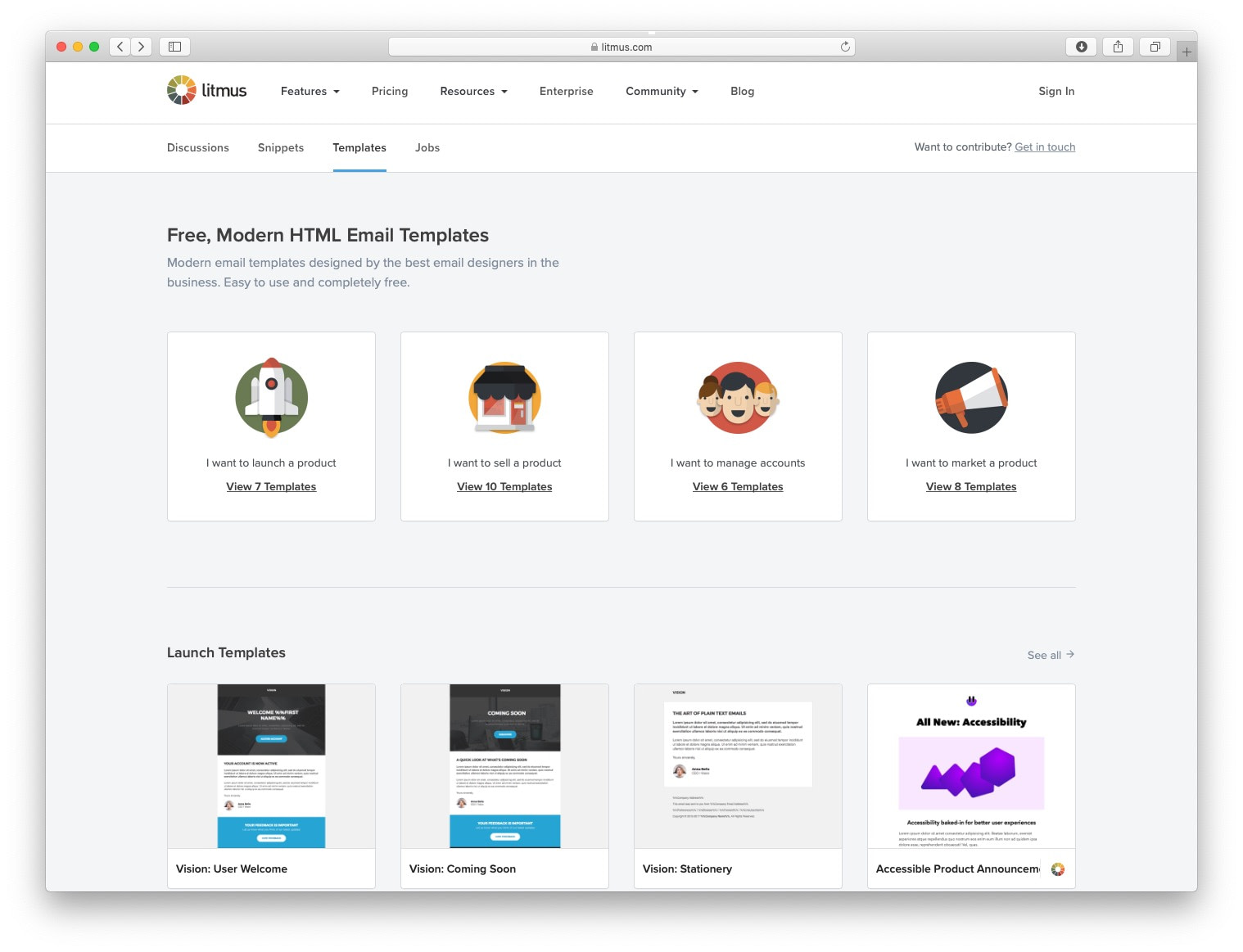 Litmus is an email building tool that offers a variety of free email newsletter templates on their website. These are separated into four categories based on their purpose:
Launch marketing
Sales
Account management
Marketing
You must sign up for the Litmus builder to work with these templates. The builder can be synced with your email marketing service to send emails out directly from the builder.
Note: This is a code editor, not a graphic design program. You should only choose Litmus if you are comfortable with HTML and/or CSS.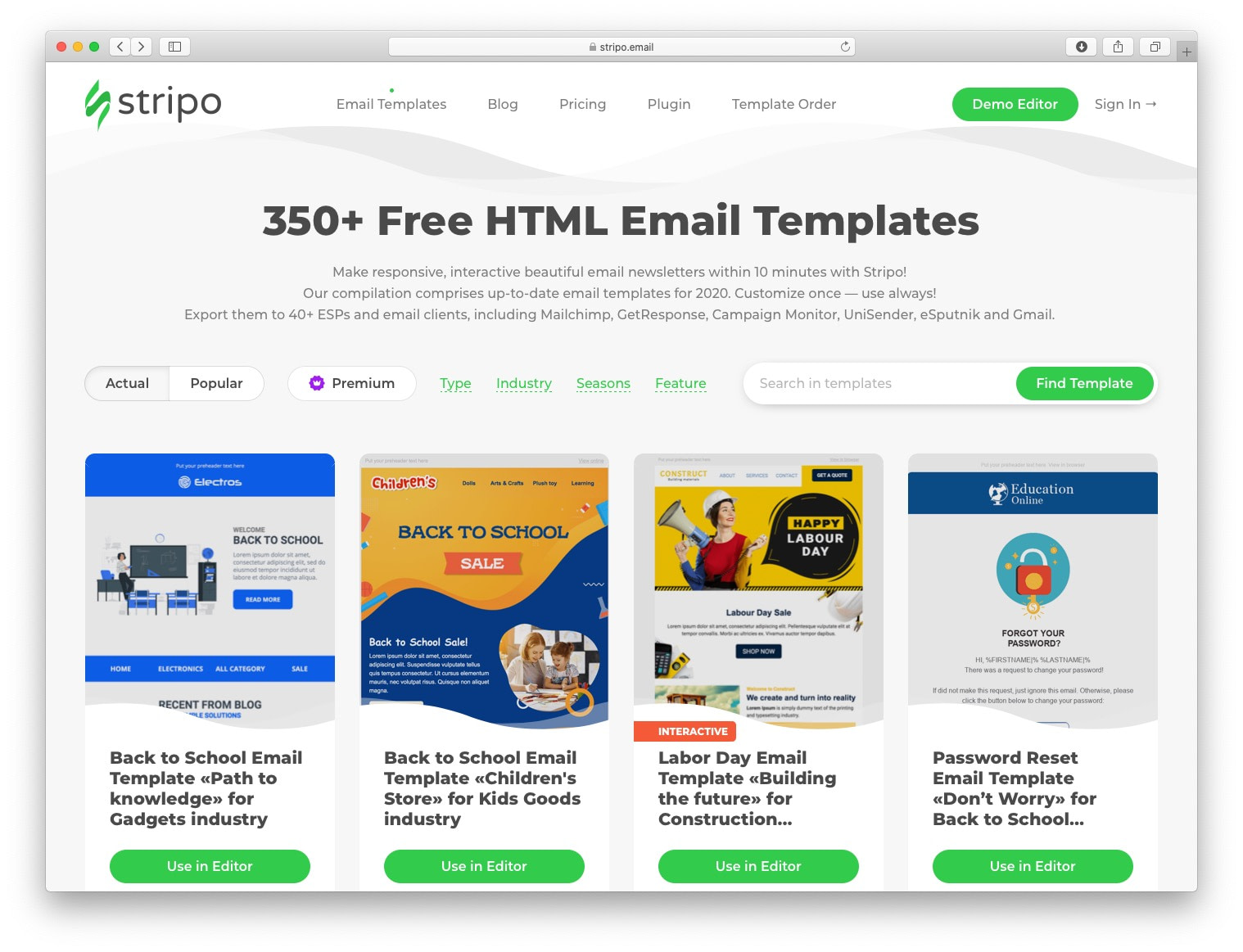 Stripo is a drag-and-drop email builder with a library of over 350 free email newsletter templates. You can sort them by type, industry, season, or feature. This makes it easy to find the perfect template for your specific needs.
Click on a template to use it. This will take you to a page where you can view more details about the template. Press the "Use in Editor for Free" button on this page to start editing. Note that you must sign up for a Stripo account to save your work.
MJML is an HTML-based responsive email designer. They have an extensive collection of email templates for various purposes, such as marketing, transactional, and event emails. The search function at the top of the page allows you to easily find the right template for your goals.
When you find a template you like, click on it. This will open the MJML editor, which offers a live view of the email beside the HTML. This allows you to see edits in real time. You can then copy the finished code into the HTML editor offered by your email marketing service.
🎨 Format: Downloadable software editor, creates raw code that can be manually copied into any email builder
GitHub is a software development platform with a repository featuring thousands of templates for different purposes. This includes hundreds of email newsletter templates. Simply click on a link to a template and you'll be taken to a page where you can download or copy the code.
The one drawback of GitHub in this instance is that the listings don't include images. To see what an email template looks like, you must go to the information page for that template. This means it can take a long time to sort through them all.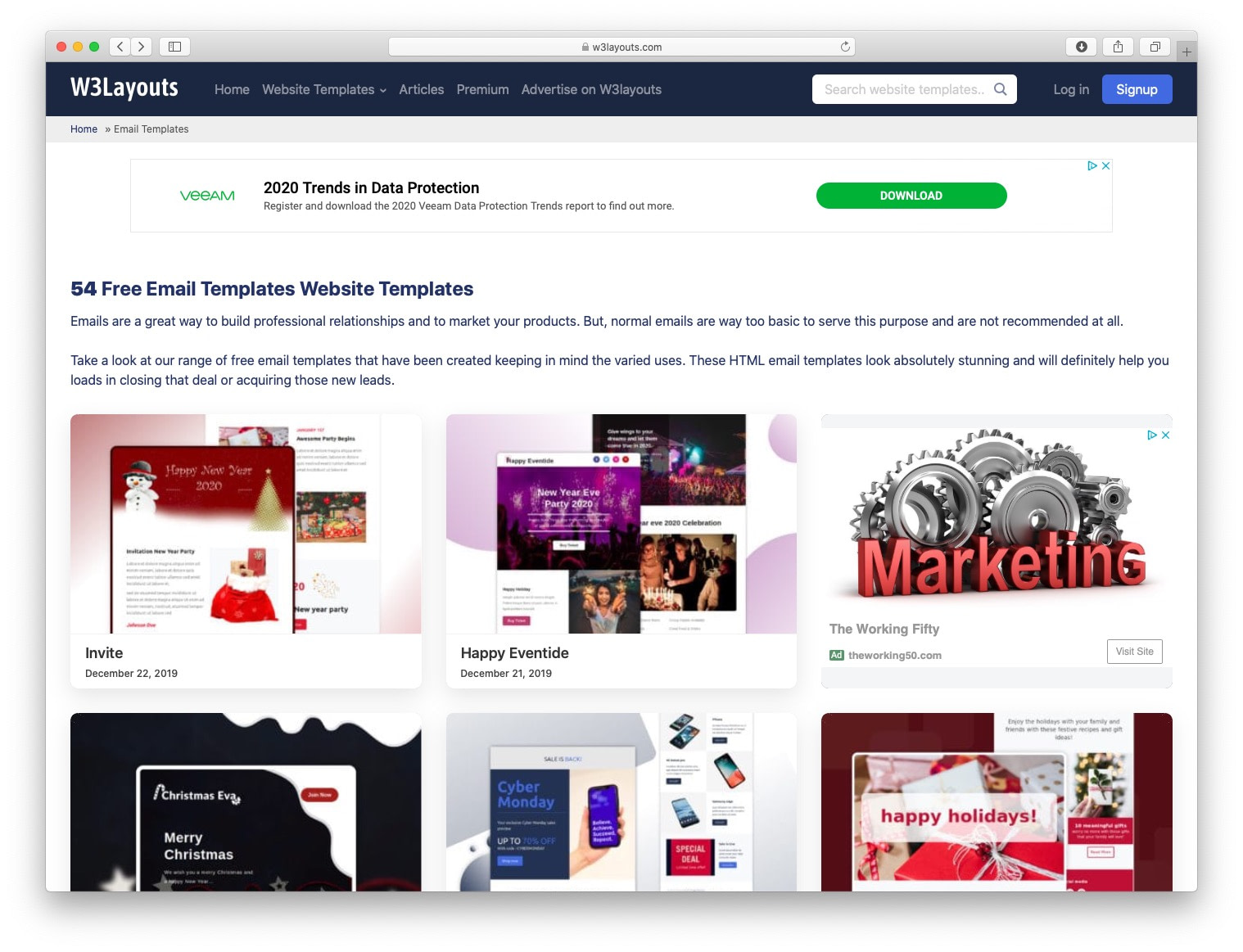 W3Layouts provides thousands of professionally designed templates for a variety of purposes, including 54 email templates. Their templates are typically themed around specific industries or holidays.
Click on a template you like to be taken to a download page. You can choose to sign up for a paid plan here, or grab the design for free with a mandatory backlink. There is also an "Edit Template" button on this page that will take you to the W3 editor. To save files with the W3 editor, you must sign in using your email or a social login.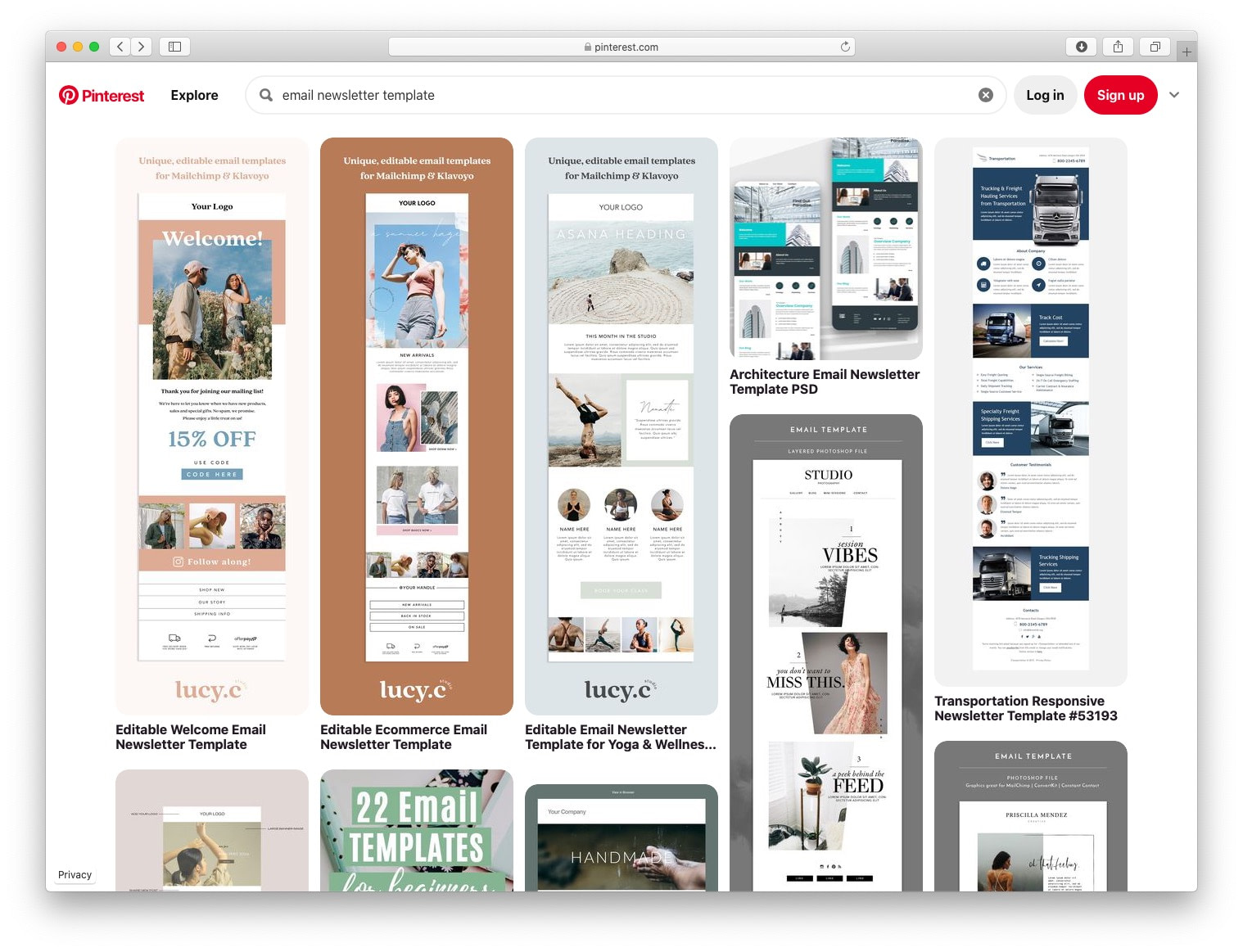 Pinterest is a great place to find visual ideas for just about any project, including your email newsletter. Many users have uploaded email newsletter templates for others to use. Since this is a community effort, you can also expect more to be added on a somewhat regular basis. However, it should be noted that some of the templates pinned here are for sale, not freely available.
If you see a template you like, click on it to be taken to an information page. This will include a link to where you can download or purchase the template.
BEE Free is a drag-and-drop responsive email designer. You can find dozens of free email newsletter templates on the BEE Free website. The database offers a powerful search function, allowing you to organize results by designer, usage, or industry.
To use a BEE Free template, simply roll your mouse over it and click on the "Get started" button that appears. This will open the template in the BEE Free editor, where you can customize it to your heart's content. When completed, the design can be downloaded in a variety of file formats. You do not need to sign up for an account to download your finished work.
🎨 Format: Online-based design, downloads as a ZIP folder; can also be exported as a PDF or HTML code or connected directly to some email marketing services
Final thoughts
If you want to create beautiful, effective marketing campaigns, free email newsletter templates are a great resource to jump start your workflow. You can also use several of the tools listed above to build custom campaigns.
Where do you go when in need of some quality email newsletter templates? Feel free to share in the comments below.
…
Don't forget to join our crash course on speeding up your WordPress site. With some simple fixes, you can reduce your loading time by even 50-80%:
Or start the conversation in our Facebook group for WordPress professionals. Find answers, share tips, and get help from other WordPress experts. Join now (it's free)!